Featured Book Title
Georgi Ivanovitch Gurdjieff –
The Man, The Teaching, His Mission
by William Patrick Patterson
6x9 Softcover, 688 pp.
Essays, Notes, References, Bibliography, Photos, Index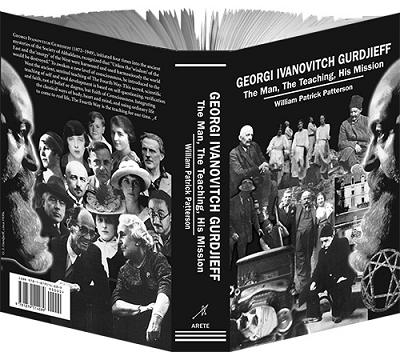 The author's ninth and final book on the Work is a comprehensive and factual account of Gurdjieff and The Fourth Way. Material from all of Gurdjieff's direct students and their library archives, much of it not available until recently, is assembled in chronological form as it happened.
The aim is to give an objective, panoramic view of Gurdjieff's life, the inner substance of the seminal and scientific teaching of self-development he discovered, and his unrelenting mission to introduce and establish this esoteric teaching in the West.
Included are Uspenskii's (original Russian spelling) never-before-published essays "Why I Left Gurdjieff" and "Where I Diverge from Gurdjieff"; original deleted material from Search; Uspenskii's American femme fatale, Carman Barnes; Jessie Dwight Orage's short stories "Elsie at the Prieuré" and "Elsie and Allah"; notes of Kathryn Hulme and Solita Solano (1935-39); The Science of Idiotism, and the complete scenario of Gurdjieff's ballet, The Struggle of the Magicians.
Featured Video Title

Introduction to Gurdjieff's Fourth Way Vol. 3: What Is the Meaning of Human Life on the Planet Earth?


by William Patrick Patterson
DVD, color, 3 hours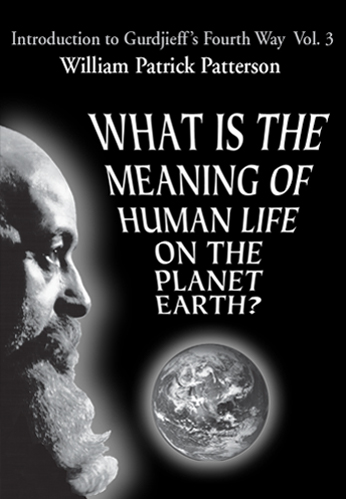 Filmed during a weekend seminar with William Patrick Patterson exploring in depth Gurdjieff's question of "What is the sense and significance of life on Earth and human life, in particular?" the Dialogue sessions probe the primary purpose of organic life on Earth, the receiving, processing and transmitting of energies, the developing and undeveloped image of God, vibratory electrical beings, societal beliefs of having an indivisible I and a soul, the "I"-of-the-moment, Adam's power to name animals, perfectly imperfect, living one's suffered truth, conscious egotist, Kesdjan body, esoteric Christianity, a Christianity before Christ, religion as wholeness, the teaching of our time, Consciousness without objects.
Reviews to come
---
To purchase Georgi Ivanovitch Gurdjieff –
The Man, The Teaching, His Mission
or
Introduction To Gurdjieff's Fourth Way Vol. 3:
What Is the Meaning of Human Life on the Planet Earth?
please visit,
The Gurdjieff Legacy
Foundation Bookstore.
For Fourth Way videos, music, public events, workshops, seminars, and current and back issues of The Gurdjieff Journal©, please visit www.GurdjieffLegacy.Org.
For more Fourth Way links, please click here.

© Arete Communications 2003–